Alyce 3rd Party
Break into Accounts with Perfect Gifts & Timely Follow-up
Alyce in Outreach is the secret weapon that helps reps book more meetings through one-to-one gifting and personal follow-up at scale.
Alyce in Outreach allows you to create triggers when any Alyce gifting event occurs, so sales reps can effectively connect and follow-up with prospects in a personalized way, at the right time.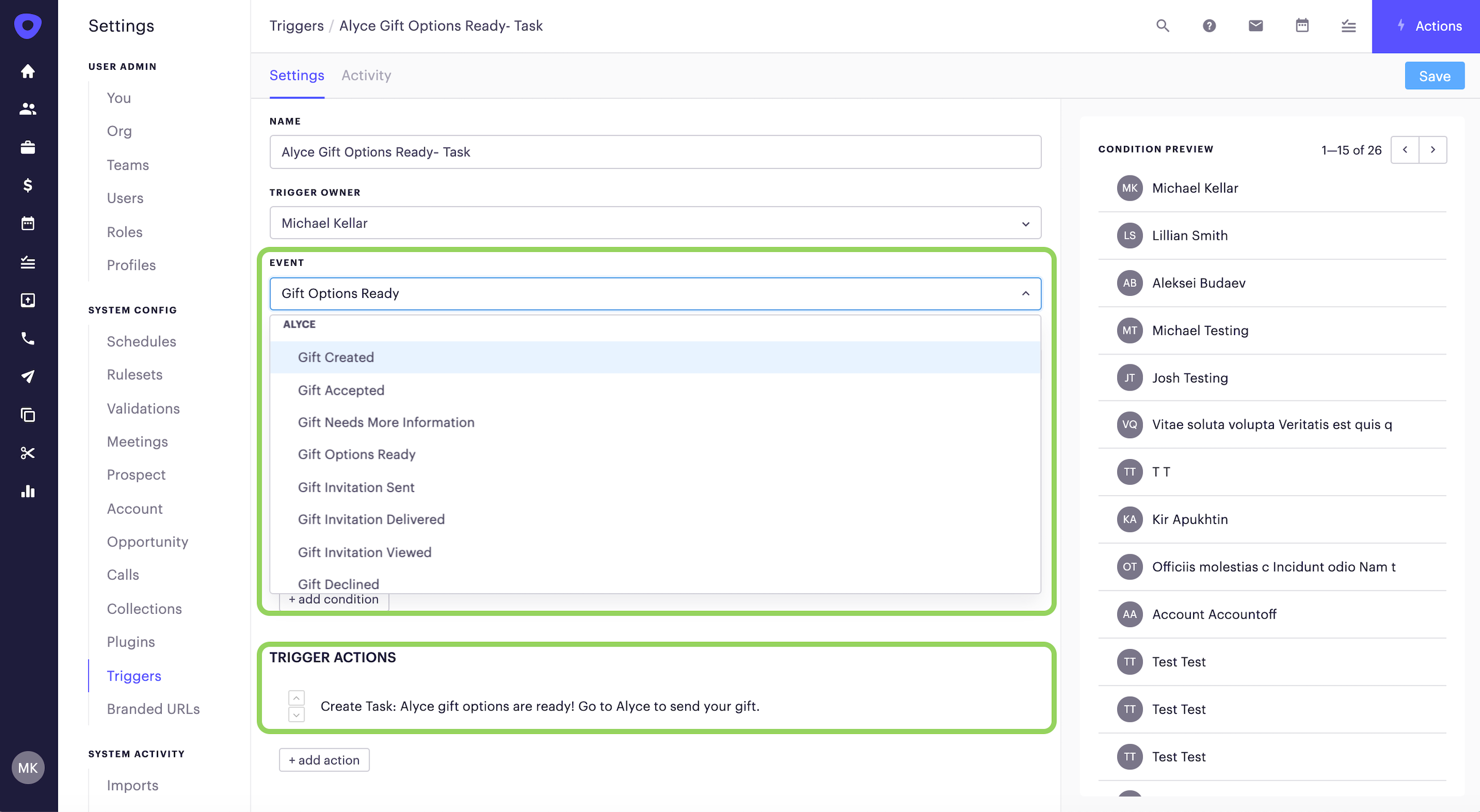 Some examples of Outreach triggers you can create using Alyce events include:
Select & Send a Gift When Options are Ready

When gift options are ready to send in Alyce, have Outreach automatically create a task to send your invitation with your gift selection to your prospect

Let Your Prospect Know When a Gift is on Its Way

When a gift invitation is sent via Alyce, trigger a task or sequence in Outreach to send an email to the recipient to let them know something is coming their way

Call Your Prospect When an Invitation is Delivered

When a gift invitation is delivered, trigger a task or sequence in Outreach for reps to follow up with a call or email as soon as the gift hits their desk.

Follow up when a Gift is Viewed but Not Accepted

If a prospect receives and views their Alyce gift, but does not accept it, set up a trigger that creates a task or adds them to a follow-up sequence X amount of days later.

Schedule Time When a Gift is Accepted

When a gift is accepted, trigger a task to call or email right away to book a meeting.

Follow up When a Gift is Declined

If a prospect receives but declines their Alyce gift, follow up in a personalized way through Outreach that asks them why they declined

Add to Nurture Sequences when Gift is Expired

If you're still having trouble engaging a prospect, and their Alyce gift expires, add them to a sequence or create a task to follow-up sometime in the future to re-engage.